Canada Goose, purveyors of power parkas made for impossibly harsh climates, may not initially strike you as the ideal brand to link up with the NBA. But they do have a history with the league. Back in 2016, when the All-Star game was held in Toronto for the first time, the outerwear titan made some limited-edition co-branded parkas for all the players—which turned out to be incredibly clutch, given that it was stupidly cold that weekend. We're talking historically, scare-away-all-the-free-agents cold.
Fast-forward four years later, and Canada Goose is debuting a multi-year partnership with the NBA as the league's "proud outerwear partner." Every All-Star game going forward, the Canadian brand will develop an exclusive design collaboration for players and fans, with a different designer taking the creative reins each year. Kicking things off is yet another unlikely collaborator: Rhude founder Rhuigi Villaseñor, known for his luxe takes on SoCal streetwear staples. Having moved from Manila to Los Angeles at age 11, he admits cold-weather gear isn't exactly in his wheelhouse. "Living on the West Coast, I only know what I'm surrounded by, and it can only be so cold in California," he tells Complex Canada. "So, in some ways, I brought this naivety and innocence to the table when designing."
For some inspo, Villaseñor did a deep dive into the Canada Goose archives. The resulting capsule—out today in time for this weekend's NBA All-Star game in Atlanta—is a range of pieces that can be rocked in a variety of climes, from Calabasas to Calgary. The pinnacle of the four-piece unisex collection is a Freestyle Vest, meant for layering and milder days, which is being gifted to all 2021 NBA All-Star participants—and which you've likely seen all over your Instagram feed this week.
There's also a Portage Jacket—a relaxed-fit trench coat also meant for balmier weather—and two heavier-duty parkas: a Chilliwack Bomber and Macmillan Parka. Throughout the collection are hints of Villaseñor's design signatures, from vintage washed colours to flashy pops of yellow and safety orange. Each style also comes finished off with a holy trifecta of branding: the Canada Goose disc, NBA logo, and Rhude patch.
To celebrate the launch and All-Star weekend, we caught up with Villaseñor to chat about the capsule, his experience with Canadian winters, and the evolution of the tunnel walk.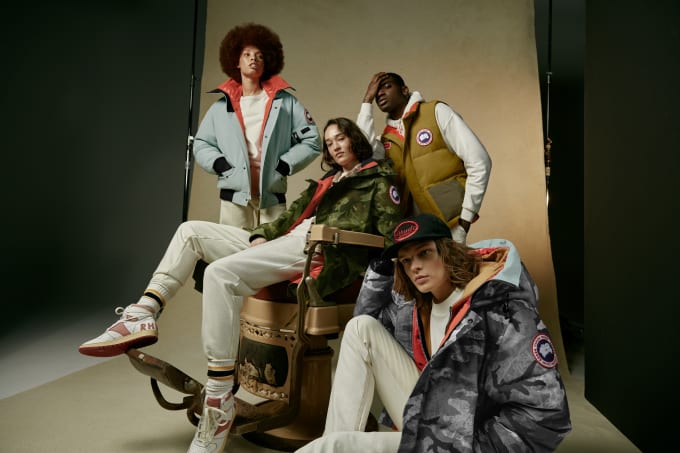 What attracted you to this collab?
I've been a huge basketball fan since I was little. The NBA merges cultures, socioeconomics, and brings people around the world together in the name of sport. I have so much respect for Canada Goose. It's an innovative lifestyle brand, redefining the category. It's not even fashion—it's science. There is so much problem solving that has been done with the brand, and only time, considerable time, can answer those issues. I think that's what fascinated me most about the brand—the years it's worked towards solutions, and I feel that's where I stand as a designer, too. It was a no-brainer to partner with these two iconic brands.
What was your vision for this collection and how did you put your own unique spin on it?
The vision was to create a collection that honours the heritage of both the NBA and Canada Goose, and is a tribute to the athletes and celebrates the fans.
I knew that I wanted to make the Canada Goose emblem much more extensive—why hide something so significant and vital for the brand? I love the product, and I must share that love of this product and its heritage with the kids who love my brand. I kept implying that we needed to make sure it felt Canada Goose-forward. People needed to recognize that it was Canada Goose first with subtle Rhude details.
We added that "Rhude spice" to reimagine and reintroduce these styles to the consumer. The "Rhude spice" is adding a couple brand details that we've developed over time—harsh triangular lines, bold branding, the yellow details, the vintage look. That's how the Vintage Washed Camo Arctic Tech came to be. Arctic Tech is an iconic Canada Goose fabric, so with this collection, we gave it a distressed look that nods to Rhude's signature design. These styles are vintage washed to wear with you, while still providing that trusted durability, versatility, and functionality.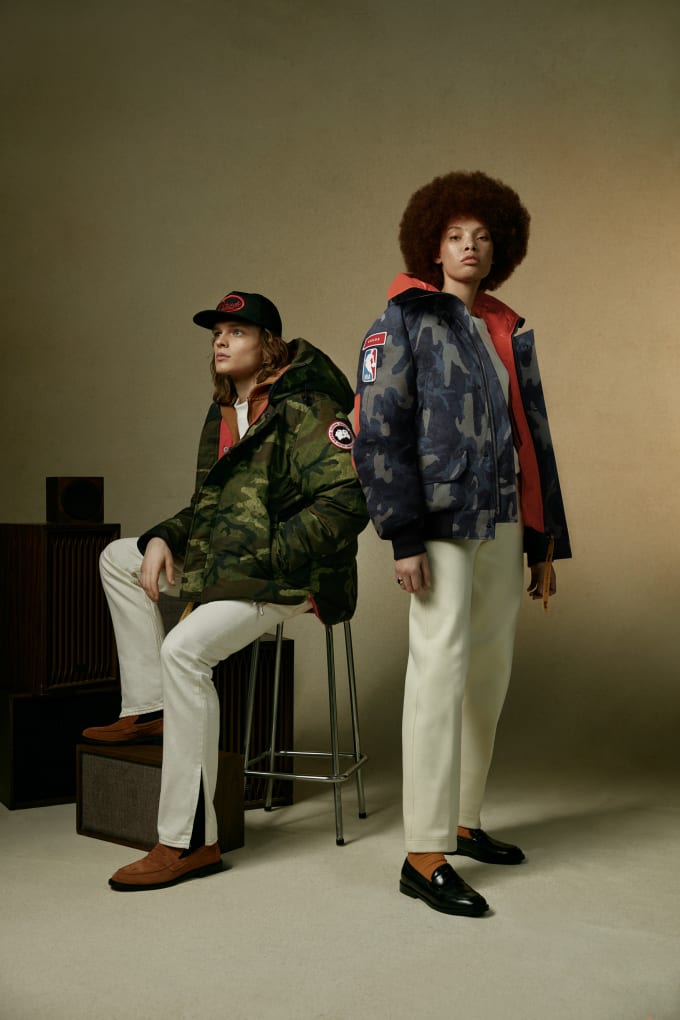 Where did you draw inspiration from for this collection?
Canada Goose has decades of development under its belt; it's the best in outerwear and I'm fascinated by the functionality of their products. I dove into their archives and wanted that to be the vocal lens of the collection. They're all classic Canada Goose pieces. The Vest and Portage can be worn year-round—they're the essential pieces you need for layering, transitional weather, changing seasons. The Chilliwack Bomber and Macmillan Parka are cold-weather companions, both built for city living.
The reoccurring theme for this entire collection has been breaking barriers and redefining the new norm that is born from each style's oversized silhouette. The modern woman or man has no limitations. They buy from high-low; they wear womenswear to menswear. It's the full look that is the most important thing now, not whether it's female- or male-specific. With this collaboration, I think one of the things I wanted to reinforce was encouraging a guy to wear a women's jacket because to me, that's good. It's a sign of the times now.
How much experience do you have with Canadian winters? Given that you moved to L.A. from Manila, I imagine you haven't had to deal with the cold too much.
I once spent a Christmas Day alone in Canada and that was by far the coldest winter ever for me.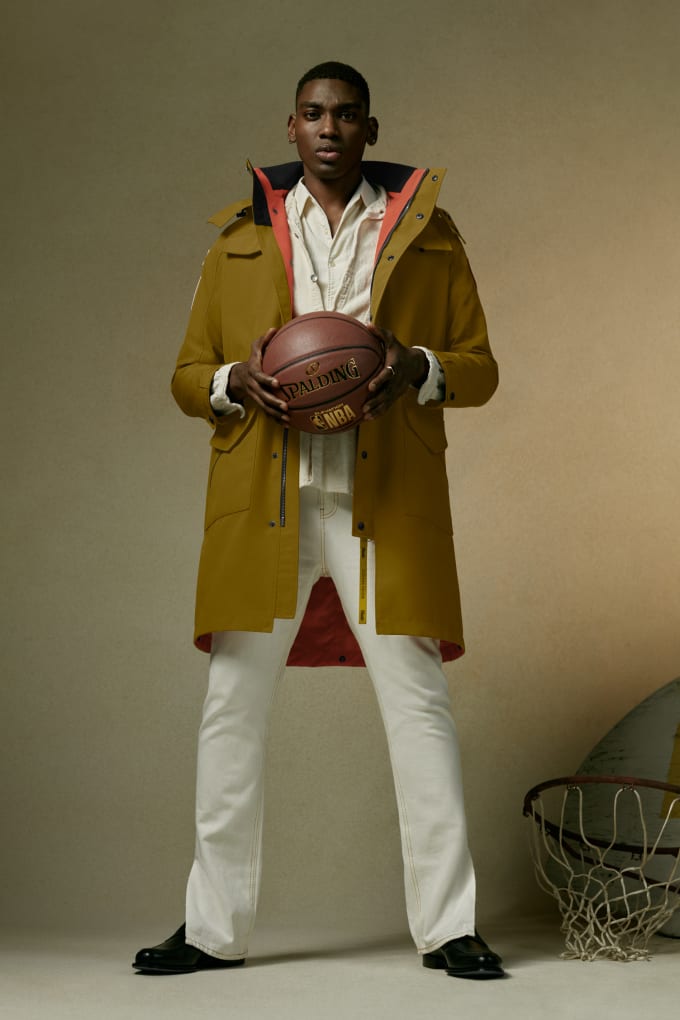 You've said before that your work is kind of "an autobiography," and that you largely design based on things you experience personally on the day-to-day. That being said, how did you bring a personal connection to this collab, since cold weather isn't something you've experienced a lot of?
To me, it was about using textiles and creating products that felt lightweight enough for comfortable 70-degree California weather but can still go into the deep, deep winters.
When I was designing, I put the temperature in the office super-cold, so I was mentally prepared. That's how I got into the zone: I can't create outerwear if I don't know how it feels to wear it in a cold environment.
You're joining James Wiseman to launch the "Play in the Open challenge" on TikTok, asking followers to give you their best spin, dunk, or dribble. Do you play basketball yourself? If so, what style of player are you?
I do. I'm a point guard and definitely a lot of finesse and jumpers. Not much of a physical player.

How big of a basketball fan in general are you? Did you follow the PBA when you were growing up in the Philippines? (Side note: I'm Filipino too!)
I have been obsessed with basketball since I was young and learned how to speak English by watching Kobe and Jordan in post-game interviews. It's a competitive sport and I took that competitiveness and put that into my work ethic and discipline. With time and practice you get better, which is the same when it comes to design. You can be creative and competitive.
Unfortunately, I didn't spend enough time in the Philippines to get acquainted [with the PBA].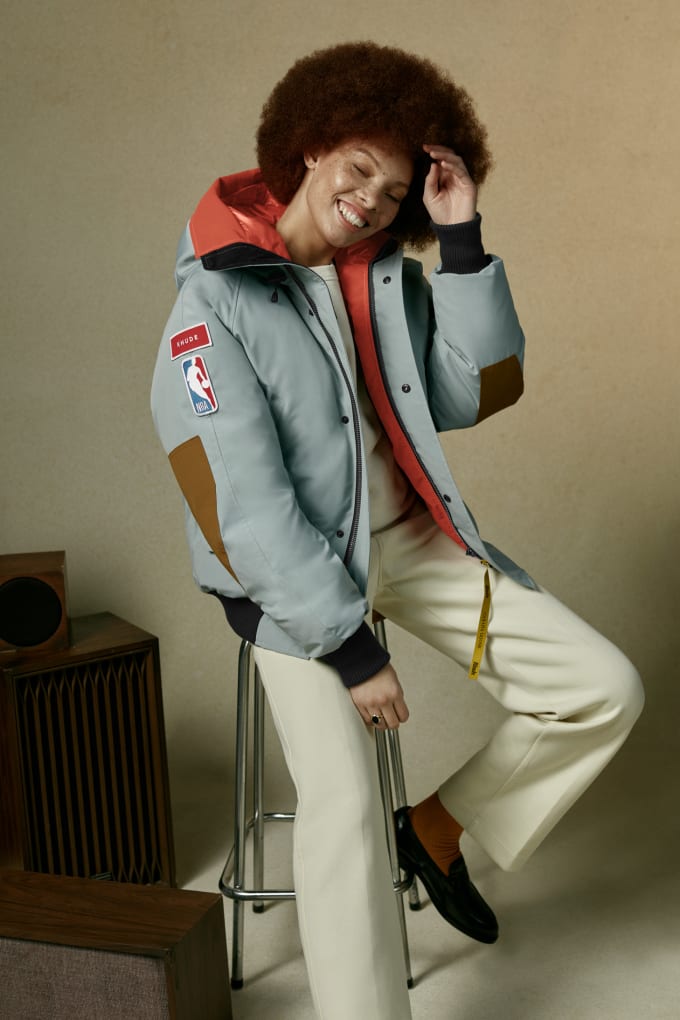 Talk about how the NBA tunnel walk has evolved over the years. Basketball has started to influence fashion. How do you see that relationship evolving?
The tunnel walk has become a platform for players to express their individuality, to be bold and experimental while showing off their personalities, as well as a way for them to connect to fans. Basketball has become a new communicator to what menswear is now.
The NBA has come to represent so much more than a sports league. They are cultural vanguards, influential and dynamic—both on and off the court. The NBA style is bold, bright, and expressive. They start trends and break style "rules." The players have inspired optimism and creativity through style. That will mean so much more in the near future, especially in a post-COVID world. People are going to use their clothes more than ever to communicate and express themselves.
Which NBA player has impressed you with their style lately?
There is an endless list, but the major ones are KD, Lebron, AD, dbook, and Jordan Clarkson.
Who will you be rooting for this weekend: Team LeBron or Team Durant?
I'm a Lakers fan for life. Team LeBron!