How Canada Goose turned its outlet stores into galleries for Inuit art
Walruses appear frequently in the folklore of the Inuit people, who have inhabited Northern Canada, Greenland, and Alaska for thousands of years. Their tales are full of heroes who travel by canoe to the floating ice where they hunt the fanged creatures that can weigh as much as 20 men.
Canadian artist Ningiukulu Teevee has spent her career capturing the stories of her people and translating them into complex, detailed, and often playful pen-and-ink drawings. One black-and-white drawing features a Walrus staring up at the sky, its eyes full of emotion. The piece reflects the intimacy the people have with these animals, whom they rely on for sustenance, but whom they also believe to have spirits.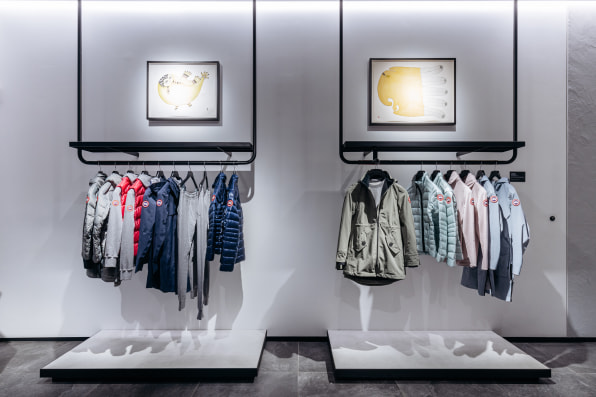 Ningiukulu Teevee's 
Avataq Spirit
, left, and 
Flirtatious Owl
 at the Mall of America store. [Photo: Canada Goose]
To see this artwork, you don't need to visit a gallery, but rather the Canada Goose store in Montreal. The picture of the walrus sits alongside two other Teevee prints featuring human figures, one whose hands are embellished with feathers and another whose hair is transforming into feathers. Birds, too, have a sacred place in Inuit culture, since their arrival in the North in spring brings warmer days, melting the ice.
Canada Goose has now acquired 40 pieces of Teevee's work. "Her work speaks to the interdependency between humans and the natural world," says Penny Brook, the company's CMO. "She celebrates this connection, but also acknowledges how fragile this ecosystem is."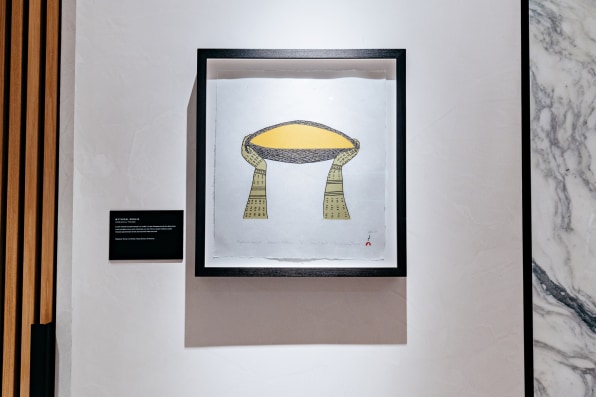 Teevee's 
Mythical Kudlik
 in Milan [Photo: Canada Goose]
Canada Goose, founded in 1957, is known as a luxury parka brand. But since 2016 it has invested in a growing art collection to display in its fleet of 50 brick-and-mortar stores. Over the past seven years, the company has acquired more than 500 pieces of art, predominantly made by Canadian artists, and now boasts the largest retail collection of Inuit art in the world. It's part of the brand's efforts to highlight the work of Canadian artists while helping consumers understand the brand's deep roots in Northern Canada.
This art program offers insight into Canada Goose's approach to retail. As I've written before, the brand sees its stores not just as places for consumers to discover and buy products but also as immersive, experiential spaces. The company has installed "cold rooms" in many stores with temperatures as low as minus 13 degrees Fahrenheit and real snow so that customers can see how its parkas hold up in such conditions.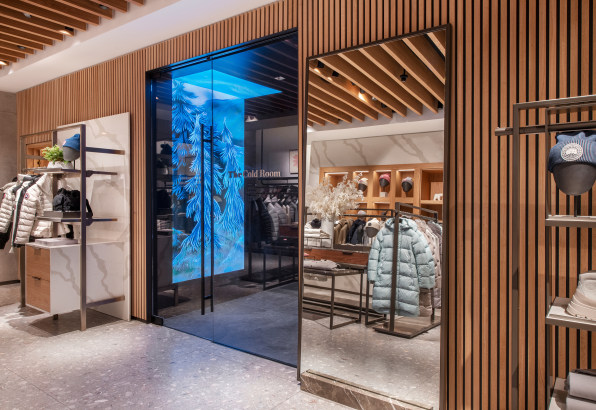 Winnie Truong's 
Zephyr
 at Canada Goose's first California store, in South Coast Plaza, Costa Mesa [Photo: Canada Goose]
From the start, the company also wanted to create a gallery-like atmosphere in its stores. But this wasn't a simple endeavor. The brand acquires many different kinds of art, from sculptures to large canvases to small lithographs, so it must work with store designers who can showcase each piece the way a museum might—and then display racks of clothes around it.
For its Frankfurt store, Canada Goose commissioned artist Alexa Hatanaka to create a version of its most iconic jacket, the snow mantra, out of washi paper using traditional Japanese paper-making techniques. The piece had to be lit properly using a complex system of lights to show the creases and translucency of the paper. "Displaying art is itself an art form," Brook says. "We work with experts who advise us on lighting, hanging the art, and presenting it in such a way that it tells a story."
Alexa Hatanaka's 
Paper Snow Mantra
 in Frankfurt [Photo: Canada Goose]
Canada Goose partners with Namara, an art curation firm founded by Natalie MacNamara, to acquire pieces. Brooks says the company prefers to invest in pieces by lesser-known artists because they stand to benefit more from the brand's platform. In the stores, each piece has a museum-like description of the work and the artist, and there's also a QR code that the viewer can scan to learn even more on a microsite. Canada Goose trains its in-store ambassadors to understand the art as well, so they can talk about it with customers.
Canada Goose has made an effort to ensure that it credits the Inuit people with inventing the parka in its marketing materials. It also launched Project Atigi, for which it commissions Inuit designers and seamstresses to create parkas that blend traditional craftsmanship and techniques with Canada Goose's tech-forward materials. It pays them for their work, then goes on to auction the parkas, with proceeds going to Inuit Tapiriit Kanatami, an organization that advocates for Inuit communities.
Building this relationship with the Inuit community is important, particularly at a time when brands are called out for cultural appropriation. In 2021, moccasin maker Minnetonka issued an apology on Indigenous People's Day for profiting from Native American designs without honoring Native culture for 75 years. Conversely, Canada Goose has been collaborating with the Inuit people for decades.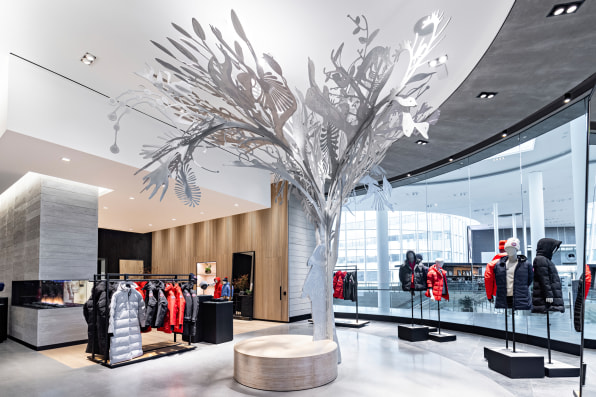 Alex Fischer and Qavavau Manumie's 
Story Tree
 in Toronto [Photo: Canada Goose]
The company has commissioned many different artworks for its stores. One that stands out is a white aluminum tree in its Toronto store made by Inuit artist Qavavau Manumie and Canadian contemporary artist Alex Fischer in 2020. The sculpture is based on one of Manumie's drawings that features an Inuit man with a tree coming out of his mouth and bears' faces at the very end of each branch. The idiosyncratic image weaves together Arctic wildlife with Inuit mythological storytelling.
---